How to install kitchen cabinet handles – a step-by-step guide
Experts reveal how to install kitchen cabinet handles for a easy and stylish cooking space refresh...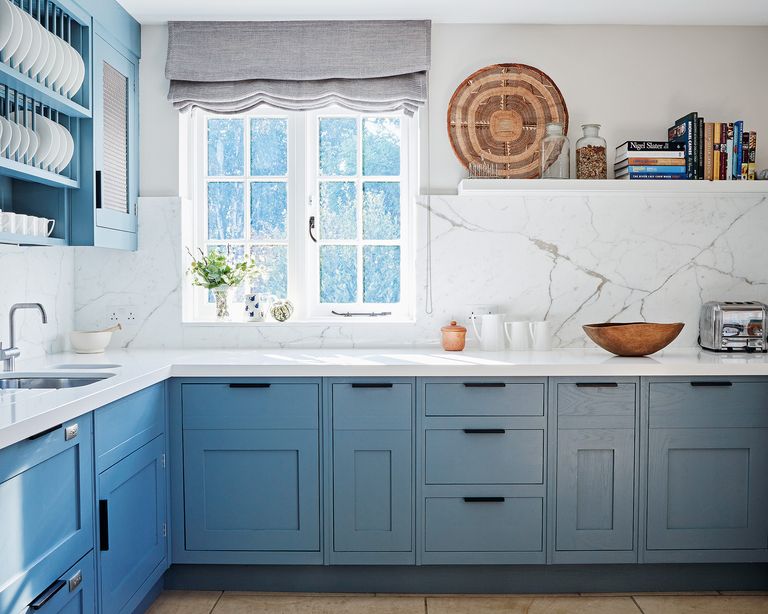 (Image credit: Future / Brent Darby)
When your kitchen starts looking a little tired, learning how to install kitchen cabinet handles is a chic and affordable way to give it a stylish refresh.
And you don't even have to call in the professionals for a flawless facelift.
'Don't want to shell out on the cost of a full renovation? We don't blame you,' says Tom, co-founder of Plank Hardware. 'Instead, it's worth considering how you can elevate your culinary space through finer details, such as cabinet handles.
'This simple piece of hardware can complement your kitchen décor and create a stylish, unified appearance.'
Once you've learnt how to remove kitchen cabinets, how to paint kitchen cabinets and how to stain kitchen cabinets, read on to see how best to kitchen cabinet handles a complete refresh.
How to install kitchen cabinets for a stylish update
Need some professional advice before you begin? We tapped the experts at Croft (opens in new tab) and Plank Hardware (opens in new tab) for their top tips. Firstly, be prepared with the right tools for your kitchen cabinets.
You will need:
Cordless drill with appropriate wood drill bit to suit the fixings supplied
A combination square
Tape measure
Pencil
Screwdriver
Spirit level
New handles
1. Position your handles
So where should your new kitchen cabinet handles sit?
'As a general rule, base unit handles tend to go at the top of the door, so you don't need to reach too far down for them,' says Tom.
'To avoid reaching up high or having to get a stool out, wall handle units are fixed towards the bottom of the door.'
It is ultimately up to you where you position your kitchen handles, but Plank Hardware suggests the following:
Drawers:
Position your handles in the horizontal and vertical middle of each drawer face.
Floor standing cupboards:
Position roughly 50mm in from the edge of the top side opposite the hinges.
Wall mounted cupboards/units:
Position roughly 50mm in from the edge opposite the hinges, only this time positioned near the bottom of the door.
2. Measure and mark
Reach for your tape measure and pencil and get ready to find the correct spot - getting the right measurements is key to a professional-worthy finish.
Follow Plank's steps for seamless prep:
1. From the leading edge (the side of the door opposite the hinges), use a tape measure and measure in 50mm top and bottom.
2. Make a light mark with your pencil – if you're heavy handed you could dent the wood
3. Draw a line across your marks using a spirit level to ensure your handle is level.
4. Measure the total height of the door and then divide it by three to get the sizes of your top, middle and bottom thirds.
5. From the top of the door, measure down the amount of one third and put a mark with your pencil. Your handle is going to go somewhere in this top third.
6. Measure the distance between the two fixing holes of your handle, from the centre of one hole to the center of the next.
7. Subtract this measurement from the height of the top third of your door, then divide this number by two. Now you have the distance from the top of the door to where your first screw hole will go – mark this with a pencil.
8. Measure down from the first screw hole mark on the door the distance you measured earlier between the two screw holes on the handle. Make a light pencil mark for your final screw hole.
3. Check your fixing centers
Check the fixing centers and place the handle in the desired position.
'Once you're happy with the position, mark the fixing centers on the door/drawer and check the position is square and correctly positioned,' says Croft's Paul Clifford.
Plank's Tom adds: 'Before you start drilling, position your handles against the door to check you're happy with the final position. Each mark should correspond with a screw hole.'
4. Get drilling
Once your fixing centers are correctly positioned, you can drill the door.
Paul advises: 'The hole should be slightly bigger than the fixing screw supplied and will allow a little adjustment.
'Always drill from the outside to prevent damage or chipping.'
Follow Plank Hardware's top tips for perfect drilling:
1.Use a smaller drill bit to drill a 'starter hole'
Larger drill bits have a tendency to skid from their marked position, which can cause damage to the wood. To avoid this, you can use a smaller drill bit to create a smaller hole.
This will give your larger drill bit something to grip onto. Line up your drill to the pencil mark you made using your template and slowly drill into the wood, keeping your hand as level and steady as possible.
Make sure your drill is set at exactly 90 degrees to the door's surface and keep your fingers well away while drilling.
2. Or, use an awl instead
This is a metal shaft with a point that creates a slight indentation in the wood, which the drill can grip onto. You can use an awl to dent the spot you plan to drill instead of drilling a starter hole.
3. Drill a larger hole
Whether you've drilled a starter hole or marked the spot with your awl, you're now ready to drill the hole precisely. Simply use a drill bit the size of the screw you're using and begin drilling (for standard cabinet hardware screws, this is usually 5mm but check the screws supplied to make sure it's the right size first).
Aim to keep the hole neat and tidy, avoiding any splits or chips of paint that your handle may not be able to cover.
5. Secure your new kitchen cabinet handles
It's now time to finish the job and get your new kitchen cabinet handles firmly secured.
'You can now push the screw through the door/drawer front into the handle and tighten by hand,' says Paul.
Some screws can be cut to length or snapped to suit the door thickness.
1. Push your screw(s) into each hole from the inside so they poke outwards.
2. Grab your handle and place the screw hole in front of the first screw.
3. Use your screwdriver to secure the screw into the fixing. Don't tighten it all the way, as you want to be able to fit your second screw, if there is one.
4. Repeat the step above for the second screw and then tighten up both screws fully.
Where should cabinet pulls be placed?
Cabinet handles are usually placed in the center of a drawer, or in the top corner of a door.
'When drilling multiple doors or drawers ensure they are all marked the same to create a uniform appearance,' advises Paul Croft.
Ruth Doherty is an experienced digital writer and editor specializing in interiors, travel and lifestyle. With 20 years of writing for national sites under her belt, she's worked for the likes of Livingetc.com, Standard, Ideal Home, Stylist and Marie Claire as well as Homes & Gardens.