Best hand mixer 2022: for cake, cookies, and even dough
Make home baking hassle-free with the best hand mixer in 2022, featuring our top picks from Breville, Braun, Cuisinart, KitchenAid, and more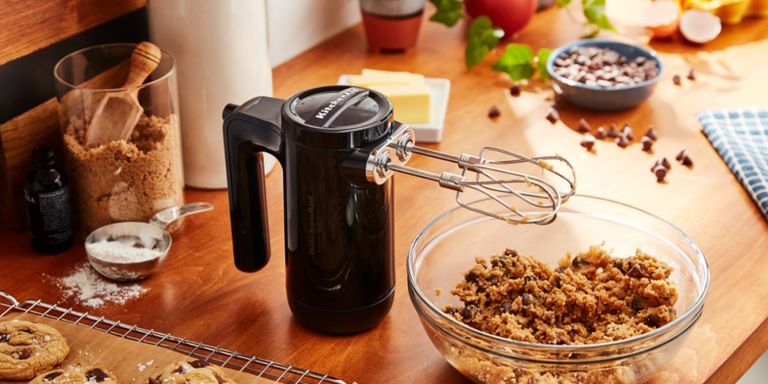 (Image credit: KitchenAid)
Contributions from
If you want to improve your home baking in 2022, the best hand mixer will make your life a lot easier. With attachments for kneading dough, beating egg whites, and folding flour into your cake batter, a hand mixer has everything you need to make tasty desserts without all the hard work.
Many choose to buy the best hand mixer when they can't quite justify the expense of a full-size mixer. Sure, they may lack the aesthetic appeal of stand mixers, but hand mixers take up a lot less space and still do the same job, with just a little more effort needed. What's more, our guide has some stylish and colorful models from KitchenAid, Braun, Cuisinart and more.
Another big advantage of buying a hand mixer, even if you do already own a stand mixer, is the freedom they offer when it comes to incorporating your ingredients. When creaming butter and sugar in a mixer, you may struggle to reach every little corner. With a hand mixer, you're free to move around the bowl as you wish, which can make it easier to access every ingredient.
Homes & Gardens put each of these mixers to the test in order to distinguish which models excelled. Within this guide, you will find all of the information you need to pick out the hand mixer that will truly accentuate your baking, with color schemes available to match your pick of the best stand mixers too.
Best hand mixers
The KitchenAid Cordless Hand mixer is our top choice thanks to the fact it combines aesthetics and functionality absolutely perfectly. It has the polished retro look that the brand is famous for, the convenience of being cordless, and the performance that you need to get your smaller baking tasks done efficiently.
Why we love it
It has two sturdy beaters which sit somewhere between traditional balloon whisk and beater shapes, meaning they're good substitutes for both. That saves on storage space and delivers on multi-functions despite the lack of added attachments. It performed extremely well in our tests, acing cookie dough and cake batter, and won us over when it came to its style.
Features
With seven speeds to choose from you can fold as well as whisk, so whether you want to keep your mix dense or fill it with as much air as possible, there is a speed setting for you. We're fans of the blue velvet color, but there are seven to choose from. Pair it with your KitchenAid Artisan in Empire Red or stay classic with a matt black or clean white.
Read the full KitchenAid Cordless Hand Mixer review for more information.
Braun makes an impressive range of handheld appliances, including mini choppers and immersion blenders. This particular mixer, which has an ergonomic design, is a triumph in performance stakes, as it aced all of our tests with no fuss at all.
Why we love it
The MultiMix is very powerful, with a 350-watt motor that matches some of the most popular food mixers on the market. This was very much so reflected in our tests, with this mixer breezing through all of our mixtures, regardless of the density. It also has a design that promotes easy cleaning, with a sealed body that won't let any mixture seep inside.
Features
There are two dough hooks included with this mixer too, which are excellent for mixing pastries or bread doughs. The controls are also cutting edge, using a dial turn system that you can operate with one hand, whilst you use the other to steady your mixture. Whilst it might not be the most aesthetically pleasing mixer in the world, it contends with the best when it comes to a stellar mixing performance.
Read the full Braun MultiMix 5 review for more information.
If you want the best hand mixer and have a larger budget, the KitchenAid KHM926CU 9-Speed Hand Mixer is our top pick. With a cord to help pack in that extra power, and with a stunning design, we think this mixer is very much worth the splurge.
Why we love it
Why? Well, for a start there are nine speed settings. These use slow start (to prevent spills and messes) and range from speed one, which is great for folding, to speed nine, which is perfect for meringues.
Features
Speed is adjusted using the buttons at the top of the mixer, and is clearly displayed on an LED screen. There's also a beater ejector button that keeps fingers from getting messy when you're done, and a lockable swivel cord that keeps it from getting in the way when cooking.
Read the full KitchenAid 9-Speed Hand Mixer review for more information.
The best hand mixers are all turning cordless. There's also a KitchenAid option on the market but we like the Cuisinart RHM-100 EvolutionX 5-Speed Cordless Hand Mixer with its five speeds, stand-up display and impressive runtime.
Why we love it
There are so many reasons to go cordless when hunting for a new hand mixer. It give you the option of making swiss meringue without worrying about finding a place nearby to plug in, and if you have a kitchen island it can sit on the counters without all the clutter of a cord.
Features
We noted that you cannot use this hand mixer while it's charging, so be sure to charge it ahead of time if you plan on using it.
Read our full Cuisinart EvolutionX Cordless Hand Mixer review for more information.
The Oster HeatSoft Hand Mixer has one of the smarter designs in our lineup of the best hand mixers thanks to its heated technology. Gone are the days of waiting for your butter to reach room temperature with this baking gadget, which also has great mixing power.
Why we love it
Recognizing an issue that home bakers come across far too often, this mixer warms butter as you mix it to bring it to the right temperature for incorporation by blowing warm air into the bowl as you mix. The result? Fluffier cakes and cookies, without the hassle.
Features
It has seven speeds and a burst of power button, as well as a button to activate and disable the heated features. This hand mixer has an easily-stored case that contains all the attachments and snaps securely shut. It also includes a whisk attachment, which is perfect for whipping cream and finer mixtures.
Read our full Oster HeatSoft Hand Mixer review for more information.
---
What is the best hand mixer?
Homes & Gardens tested the hand mixers within this round-up side by side in order to truly evaluate which model was the top performer. Our top pick of the best hand mixers goes to the Kitchenaid Cordless Hand Mixer (opens in new tab). It's designed to incorporate all your ingredients and adjusts its power by detecting the attachments you use automatically.
There's also high praise for the Cuisinart RHM-100 EvolutionX 5-Speed Cordless Hand Mixer if you're looking for a top cordless option to allow free movement around the home as you bake. The range also features one of the best immersion blenders we tested, which is also cordless.
How to choose the best hand mixer for you
Speeds
Hand mixers offer anywhere from 5 to 9 preset speeds. Lower speeds are ideal for integrating ingredients without overworking a batter, and a higher speed can beat egg whites or heavy cream to stiff peaks.
Every hand mixer in our guide has a speed setting for any task you may wish to use it for, but it's no surprise that the more premium options offer more speeds. These will give you more flexibility in the kitchen and offer a wider range of functions for keen home chefs.
Storage
Many of the best hand mixers come with cases that contain the machine itself as well as all of its attachments in one easy and convenience space. This makes storage simple and prevents clutter when not in use.
Weight
None of the best hand mixers are very heavy, but if you plan on using it for prolonged periods of time it's worth making sure it won't become cumbersome.
Attachments
Every hand mixer will come with beaters as standard, but some offer extras including dough hooks, balloon whisks and even spatulas for increased functionality.
Considering buying a stand mixer instead? We compared hand mixer vs stand mixer to see which made a better batch of brownies.
How we tested the best hand mixers
Homes & Gardens tested each of the hand mixers in this guide simultaneously at a testing facility, in order to gauge which models are worth spending your money on. There were various elements to the testing process including three different tasks to evaluate the power of each mixer, and additional time given to testing out various additional attachments that came with each mixer. The tests were made as quantifiable as possible, with recordings of time taken to adequately mix as well as decibel readings.
Molly is the Ecommerce Writer for Homes & Gardens and spends her time searching the internet for the next best thing for your home, with a focus on shopping edits and buying guides. Before joining Homes & Gardens, Molly graduated from the University of Exeter with a degree in English Literature, with previous internships undertaken at The Economist in her summer breaks.